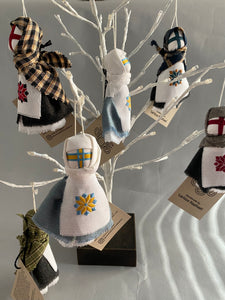 Handcrafted motanka yarn doll as hanging ornament, handcrafted by artisan Larissa Raphael. Assorted embroideries from various regions of Ukraine. 5 1/2"
The making of motanka dolls is a Ukrainian tradition that goes back 5000 years.  A motanka doll is a traditional Ukrainan rag doll. It serves as protection against evil and bad luck in the home and preserves family prosperity.
These dolls are made of new and upcycled natural materials such as cotton, linen and wool with hand embroidery.
size:  5 1/2" tall