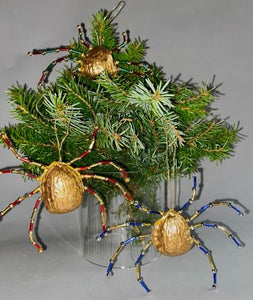 Traditional Ukrainian Hand made ornament with Spider Web legend 
Each spider (pavuk) ornament is unique. Colors of legs vary, real walnut shell. Size is approximately 4" round with the legs curled . Packaged in clear gift bag, with  legend enclosed.
The price indicated is for one spider ornament.
Ukrainian Christmas Spiderweb Legend 
According to the story, a poor woman had nothing which to trim her children's Christmas tree. Sadly, she laid her children to sleep, and after saying prayers she fell asleep as well. A small spider took pity on the woman and her children, and worked through the night spinning webs. He spun them all across the Christmas tree, and with tiny silver threads decorated each branch with beautiful designs.
When everyone awoke in the morning, they could not believe  what they saw a beautiful glistening Christmas tree! as the sun's rays jumped through the window and hit each branch, the whole Christmas tree turned sparkling silver. The children laughed with delight and happiness and sang Christmas carols. Their mother was also very happy, and blessed the good spider.
Ever since that time, the people in Ukraine believe that finding a spider web on Christmas means happiness and good luck for the family.