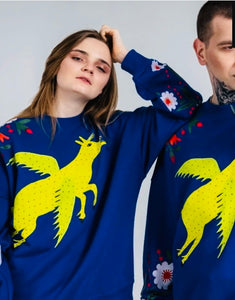 Space Horse Unisex Sweatshirt from brand Ukrainian Beasts    Kyiv,Ukraine
Ukrainian Beasts, a company based in Ukraine, unleashed a fundraising and promotional campaign, meant to support the heritage of the Ukrainian folk artist Maria Prymachenko. She is one of the most important and well-known artists in Ukraine. She was born in the village of Bolotyna, near Chornobyl, and lived there all her life. Over the years, social and political context was interwoven into her art; in many of her works, we see trauma of war, anti-war and anti-nuclear statements, the Chornobyl disaster, and even satires of Soviet leaders and collective farms.
The Maria Prymachenko exhibition at The Ukrainian Museum will be the largest exhibition of her work to date and the only exhibition outside of Europe. We have partnered with Ukrainian Beasts to offer a selection of Maria Prymachenko Tshirts and Sweatshirts.