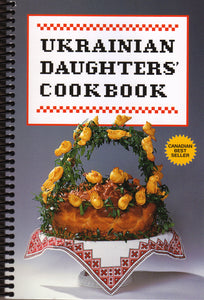 Ukrainian Daughters' Cookbook
Partialy color illustrated 
Language: English 
This book embodies the color and richness of Ukrainian tradition. it features recipes and customs passed down through generations to maintain our unique heritage. Special features include Christmas Eve Supper, Easter dishes, a 9-page section on how to make Ukrainian Easter Eggs, plus cross stitch designs and wonderful holiday breads. 

Sections:
1. Christmas Eve supper, 2. Easter, 3. Traditional foods, 4. Breads, crepes, muffins, 5. Salads, soups, vegetables, 6. Fish, 7. Meat and casseroles, 8. Desserts and pastries

 Softcover   size 6" x 9"