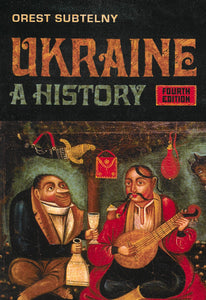 Ukraine, A History  by Orest Subtelny   Fourth Edition
In 1988,the first edition of Orest Subtelny's Ukraine was published to international aclaim, as the definitive  history book on Ukraine , at that time a republic in the USSR. Since then the dismantling of the Soviet bloc and the restorations of Ukraine's independence,an event celebrated by Ukrainians around the world but which also heralded tumultous changes in Ukraine.
While previous updates brought the readers up to the year 2000,this new fourth edition includes an overview of Ukraine's most recent history focusing on the dramatic political,socio-economic and cultural changes that occured during the Kuchma and Yushchenko presidencies. It analyzes political development,particularly the so called Orange Revolution and the institutional growth of the new state.Subtelny examines Ukraine's entry into the era of globalization,regional,ideological and linguistic tensions,and describes the myriad challenges currently facing Ukrainian state and society.
Softcover 678 ppgs
Size 6" x 9"